Poetry by Heart Competition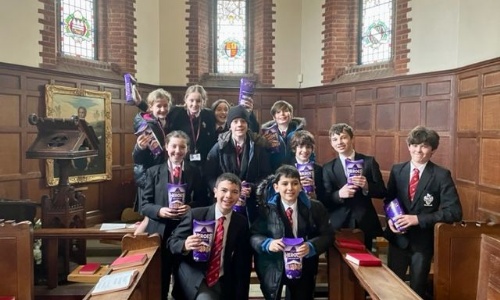 600 students participate in the biggest ever school 'Poetry by Heart' competition
During January and February nearly 600 students in Years 7, 8, 9 and 10 took part in our biggest ever school 'Poetry by Heart' competition.
Every student learned one poem during the Christmas holidays and then recited it to the rest of their class in an English lesson. Three winners were selected from each class to go into the Year Group finals, and the teachers and students saw some great performances.
The Year Group finals took place in the Chapel the first week of March, with each finalist in Years 7-9 reciting two poems, one written before 1900 and one after, before our judges and 90 of their peers. We saw some wonderful performances and the judges had the difficult task of choosing 3 winners for each Year Group to compete in the Grand Final.
The Year 10 competition was slightly different - every student learned a poem from their GCSE Poetry anthology, and the judges saw excellent performances, including some truly chilling performances of Browning's macabre Porphyria's Lover by Cat Avery and Ella Jenkins, moving recitations of Charlotte Mew's The Farmer's Bride by Angela Matoska and Maura Dooley's Letters from Yorkshire by Mollie Starkey, and a very entertaining rendition of Daljit Nagra's Singh Song by Mia Clayton. But no review of the Year 10 final would be complete without special mention of Calvin Chris-Biju's highly charged performance of Christina Rosetti's I Think of Thee which was enthusiastically received by the audience.
The Year 7-9 Grand Final took place on 14 March in the Theatre and the 9 finalists each performed their two poems to a judging panel of Miss Holmes, Mr Cross and Ms Freeman and 150 students - a very daunting task. All of the finalists performed brilliantly and the standard was extremely high. Of particular note were William Hodson's humorous performance of Matthew Sweeney's Fishbones Dreaming, Beatrice De Souza Daff's renditions of Kipling's classic If and its parallel, Benjamin Zephaniah's What If? and Emilia Robinson's evocative Dover Beach. After much deliberation amongst our judges, Kieran Clayton was awarded winner of Year 7 for his dramatic Jabberwocky and moving The End, Aleeza Yahya won Year 8 with her Paradise Lost and Wilfred Owen's Dulce et Decorum Est, and Josh Mustard took the Year 9 crown with his moving performance of Elizabeth Barrett Browning's How Do I Love Thee? and very dramatic Langley Lane. The judges were very impressed by the extremely high standard of all the performers.
For the first time this year, we are able to submit more entries to the national competition, so we have entered 12 of our students for the chance to attend the national final event at The Globe Theatre in June. We will know in early May if any of them has been selected!
Congratulations to our worthy Grand Finalists:
Year 7: William Hodson, Kieran Clayton, Amy Flower
Year 8: Beatrice De Souza Daff, Nikita D'Souza, Aleeza Yahya
Year 9: Joshua Mustard, Isabella Ashton, Emilia Robinson
And our Year 10 finalists: Cat Avery, Mollie Starkey, Katy Butler, Calvin Chris Biju, Ella Jenkins, Angela Matoska, Allanah Ryder, Gracie Runcie, Sonia Sonawala, Nathan Taylor, Mia Clayton