STEM Fayre 2022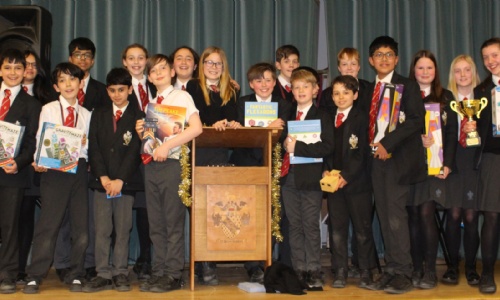 Much anticipated STEM Fayre took place on 21 March
On Monday 21 March we saw another fantastic STEM Fayre take place. The number and quality of science projects completed by our pupils in year 7 was very impressive. The subjects were diverse and the level of research undertaken was extensive, and it was wonderful to see their enthusiasm and confidence in talking about their work.
Congratulations to our winners and to everyone for their hard work. First prize and Old Borlasian STEM trophy was awarded to Coco Gillespie and Jessica Dale for their Green Roof project. Second prize went to Mollie Roehrig for her project on Palm Oil and third prize to Vikram Edulakanti for his work on Soil Moisture. The full list of prizes and winners is detailed below.
Name

Prize

Project

Coco Gillespie /Jessica Dale

1st Prize & Old Borlasian STEM Trophy

Green Roof

Mollie Roehrig

2nd place

Palm Oil

Vikram Edulakanti

3rd place

Soil moisture

Mya Rodi

Biology

Vertical farming

Giulia Alves Baggio/Mia Pollard

Chemistry

Bioplastics

Aaraiz Intisar/Umar Ali

Physics

Heisenberg's Uncertainty

Declan Boden/Kieran Clayton

Maths/engineering

Can Crusher

Sam Irving/Charlie Jones

Tech

Marvel Recreations

Annie Oldroyd/Sona Panda

Med Soc

Vaccines and Diseases

Christian Rubim-McKeating

Mrs Barclay's Award

The Creativity prize

Perpetual Motion

Joshua Maynard

Mrs Barclay's Award

The Creativity prize

Dyson Sphere

Joe Henniker

The Research Prize

Easter Eggs and Plastic

Oliver Bridgen/William Hodson

Tim Peake Award

Eco City
A huge thank you to the amazing team of STEM Prefects and Year 12's STEM Soc leaders who gave up their time to help organise the STEM Fayre for Year7.