Arts Dinner 2022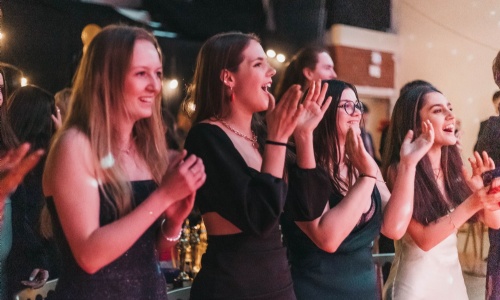 Boscars galore at annual Arts Dinner 2022
At last we had our first 'in person' Arts Dinner in three years at the beginning of May. It was a special evening and one to remember especially as it was our year 13s first and final one. The evening was a celebration of the arts over the past year and with teachers handing out Boscars it was an insight as to everyone's hard work and talent. After eating and taking photos in the cloisters everyone moved to the theatre - decked out differently as to previous years with a red carpet through the tables, two stages and space for a dance floor of course!
The speeches included those from the teachers - of which definitely moved the audience including a farewell to Miss Anderson and a Special award for Outstanding Contribution to Lizzy Rackstraw.
There were six performances throughout the night including Sanjana's Bollywood from the dance show, Charlie's Burlesque dance, Emma's monologue, gospel numbers of which included 'I say a little prayer' and Valerie. Harry and I were honoured to host the evening and we hope everyone had fun.
Sophie Le Duc, Year 13
Details of all the winners and nominees for each award are detailed as follows:-
BOSCAR WINNERS 2022
Dance Awards
BEST ENSEMBLE DANCER Olivia Henderson
BEST DANCE SOLOIST Lily Meyer
BEST DANCE PERFORMER Bianca Burduja & Joe Freeman
BEST DANCER Harry Fayers
BEST CHOREOGRAPHER Aimee Langwade
Technical Theatre Awards
BEST FRONT OF HOUSE Charlie Brown
BEST TECHNICAL SUPPORT Will Tucker
BEST TECHNICAL DESIGN & OPERATION Will Manthorpe
BEST TECHNICAL LEADERSHIP Lucile Dudrey-Harvey
Music Awards
Classical Instrumentalists
BEST BRASS PLAYER Joel Taylor
BEST WOODWIND PLAYER Lucy Barnes & Kitty Powell
BEST STRINGS PLAYER Matthew Shaw
Contemporary Musicians
BEST JAZZ MUSICIAN Ben Cunningham-Walker & Josh Kaushal
BEST CONTEMPORARY MUSICIAN Alex Coe
Vocal Awards
BEST CHORISTER: TENOR/BASS Charlie Boobyer
BEST CHORISTER: SOPRANO/ALTO Cordelia Cullen
BEST VOCALIST: TENOR/BASS Joe Parkinson
BEST VOCALIST: SOPRANO/ALTO Scarlett Bennett
Musical Leadership Award
BEST MUSICAL DIRECTOR Poppy Murray
BEST STUDENT-LED ENSEMBLE Gospel Choir
Drama Awards
BEST ACTOR IN A MALE ROLE Sacha Smith
BEST ACTOR IN A FEMALE ROLE Georgie Hill
BEST SUPPORTING ACTOR IN A MALE ROLE Joe Parkinson
BEST SUPPORTING ACTOR IN A FEMALE ROLE Emma Hickman
BEST COMPANY ACTOR IN A MALE ROLE Joe Freeman
BEST COMPANY ACTOR IN A FEMALE ROLE Charlotte Raey
BEST DRAMA LEADERSHIP Will Tucker
Special Awards
OUTSTANDING CONTRIBUTION Elizabeth Rackstraw
Fellowship Awards
OUTSTANDING CONTRIBUTION TO MUSIC Mrs Jenny Hopper
OUTSTANDING HEAD OF DRAMA Miss Lauren Anderson
BOSCAR NOMINEES
TECHNICAL THEATRE AWARDS
BEST TECHNICAL SUPPORT
Joe Freeman
Sophie Hardy
Fin Harris
Olivia Jones
Will Tucker
BEST TECHNICAL DESIGN & OPERATION
Kassia Goosen
Sophie Hardy
Sam Hart
Emma Hickman
Will Manthorpe
BEST TECHNICAL LEADERSHIP
Lucile Dudrey-Harvey
Joe Freeman
India Giles
Kassia Goosen
Harvey Green
WIll Manthorpe
Will Tucker
DANCE AWARDS
BEST ENSEMBLE DANCER
Maisie Cocharne
Sanjana George
Olivia Henderson
George Sammes
Daisy Stephens
Kirsty Wardle
BEST SOLO DANCER
Harry Fayers
Olivia Henderson
Aimee Langwade
Lily Meyer
Elizabeth Rackstraw
Louise Warwicker
BEST DANCER
Harry Fayers
Aimee Langwade
Lily Meyer
Elizabeth Rackstraw
Louise Warwicker
BEST DANCE PERFORMER
Charlie Brown
Bianca Burduja
Joe Freeman
Grace Potter
Elizabeth Rackstraw
Lauren Stewart
BEST CHOREOGRAPHER
Laura Donnelly
Harry Fayers
Sanjana George
Aimee Langwade
Lily Meyer
DRAMA AWARDS
BEST ACTOR IN A MALE ROLE
Charlie Boobyer
Tom Hughes
Joe Parkinson
Sacha Smith
BEST ACTOR IN A FEMALE ROLE
Scarlett Bennett
Georgie Hill
Elizabeth Rackstraw
BEST SUPPORTING ACTOR IN A MALE ROLE
Max Baker
Charlie Boobyer
Tom Hughes
Joe Parkinson
Will Tucker
BEST SUPPORTING ACTOR IN A FEMALE ROLE
Olivia Henderson
Emma Hickman
Sophie Le Duc
Charlotte Raey
BEST COMPANY ACTOR IN A MALE ROLE
Max Baker
Joe Freeman
Will Manthorpe
Joel Taylor
BEST COMPANY ACTOR IN A FEMALE ROLE
Jennifer Baron
Anoushka Issac
Maya Kuncher
Hui Qing Liew
Charlotte Raey
BEST DRAMA LEADERSHIP
Max Baker
Joe Freeman
Emma Hickman
Elizabeth Rackstraw
Sacha Smith
Will Tucker
MUSIC AWARDS
Classical Instrumentalists Awards
BEST BRASS PLAYER
Tom Ainscough
Harriett Cole
Ben Jones
Hari Kaushal
Neel Kygonahally
Jemima Ridley
Joel Taylor
BEST WOODWIND PLAYER
Lucy Barnes
Sophie Dodd
Daisy Foley
Kitty Powell
Ruby Sharma
Anna Tennant
BEST STRINGS PLAYER
Sophie Lazenby
Hui-Qing Liew
Jennifer Neal
Matthew Shaw
Joe Thompson
Contemporary Musician Awards
BEST JAZZ MUSICIAN
Hettie Cook
Ben Cunningham-Walker
James Howell
Ben Jones
Josh Kaushal
Sacha Smith
BEST CONTEMPORARY MUSICIAN
Alex Coe
Logan Foster-Lyons
Thomas Hughes
Joe Parkinson
Sacha Smith
Khyan Speding
Joe Thompson
Huw Williams
Vocal Awards
BEST CHORISTER: TENOR/BASS
Charlie Boobyer
Harry Fayers
Josh Kaushal
Danny Lewis
Will Manthorpe
Joe Parkinson
Will Tucker
Andrew Walker
BEST CHORISTER: SOPRANO/ALTO
Cordelia Cullen
Rheya Dharwar
Megan Houston
Sophie Le Duc
Poppy McLean-Inglis
Poppy Murray
Elizabeth Rackstraw
Ella Thornton-Wood
BEST VOCALIST: TENOR/BASS
Lewis Gabb
Thomas Hughes
Joe Parkinson
Sacha Smith
Joel Taylor
Oliver West
BEST VOCALIST: SOPRANO/ALTO
Scarlett Bennett
Georgie Hill
Sophie Le Duc
Issy Phipps
Elizabeth Rackstraw
Musical Leadership Awards
BEST MUSICAL DIRECTOR
Lucy Barnes
Rheya Dharwar, Sophie Le Duc & Ella Thornton-Wood
Josh Kaushal
Poppy Murray
Kitty Powell
Matthew Shaw
BEST STUDENT-LED ENSEMBLE
Chapel Choir
Clarinet Collective
Flute Choir
Gospel Choir
Saxophone Ensemble
String Quartet