Borlase Question Time 2022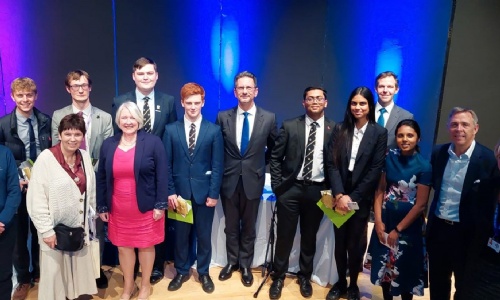 Politics department launch new Question Time event
On Thursday the 13th of October, students from Borlase and other local schools, along with parents, piled into the theatre to watch Borlase Question Time 2022. For two hours we enjoyed debates on both domestic and foreign matters, and economic and social reform, making for a truly interesting evening.
The event started with a student panel, filled with well formulated arguments and debate about the current cost of living crisis including food waste and tax rates, from both the Borlase and Great Marlow A level politics students. They then proceeded to discuss the funding of higher education in the UK, a contentious topic for all in the light of Joe Biden's recent student loan forgiveness. The students were then asked as a final point whether a career in politics was something to aspire to. They recognised the difficulties that come with being a politician, however, some do have future aspirations - a space to watch.
After the break for drinks and light refreshments from the Friends of Borlase, we were joined by the main panel for an hour of exhilarating debate. We were pleased to be joined by; Steve Baker, Conservative MP for Wycombe and Minister of State at the Northern Ireland Office; Alexa Collins, Chair of the Bucks Labour Forum and Labour's 2019 Beaconsfield parliamentary candidate; Baroness Claire Fox, former MEP and current House of Lords life peer; Mark Gloyens, Borlase alumnus and co-founder of the Rebellion Brewery in Marlow Bottom; with the panel chaired by Air Vice-Marshal Ian Duguid, from the Marlow Education Trust. The panel started with a question on whether we are doing enough to support Ukraine both in the UK and abroad. There was, perhaps, some consensus between the panellists on the immense support provided to Ukraine. However, some felt that a longer term support plan should be arranged given the sixth month housing contracts are coming to an end. The evening ended with debates around fracking and the 2050 net zero goal. There was notable disagreement with Alexa Collins and Mark Gloyens arguing to protect the countryside with Mark stating himself to be anti-globalist and instead localist. Steve Baker on the other hand stated that hypothetically, should shale gas be found in Wycombe, then fracking could "start under my house". Other interesting points throughout the evening included freedom of speech with Baroness Claire Fox saying that "cancel culture makes cowards of us all", and Steve Baker adding that in politics we need to learn how to "disagree gracefully". All in all, regardless of your view point, wise words.
An enjoyable evening was had by all, in a full theatre. Our thanks go to all those who helped to organise and run this successful event, including the Tech Theatre team for their set design and running the sound and lighting, Friends of Borlase for the drinks and refreshments, and of course, all of the main and student panellists.
Edward Perry, Year 13