Washington and NYC trip, 2022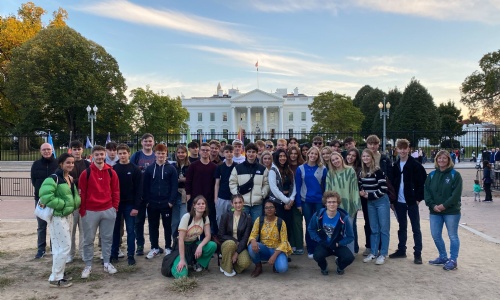 Year 13 Politics, Economics and History students enjoyed an outstanding study trip to the USA in the October half term
Accompanied by Mr Simpson, Mrs Fortnam and Mr McNally, 37 of our Year 13 students spent a week in Washington DC and New York City during the half term holiday, deepening their understanding of issues relevant to their A level courses.
The group spend the first half of the trip in Washington DC. Enjoying beautiful weather, the group was able to visit Congress (including spending time in the Senate chamber itself), see the Declaration of Independence and Constitution in the National Archives and visit sights including the monuments of the National Mall, Arlington National Cemetery and the 9/11 Memorial at the Pentagon. The students also benefitted from time in DC's superb museums, most notably the recently-opened National Musuem of African American History and Culture.
In New York City, the group visited Ellis Island and the 9/11 Memorial Museum at Ground Zero, as well as enjoying a walking tour of the sights of Lower Manhattan, including Wall Street. We also had the opportunity to spend a couple of hours in the 5th Avenue US headquarters of HSBC where a team of investment bankers explained their work to us, and routes into banking.
Overall, the trip was a tremendous success and the group were a pleasure to travel with.