House Music Competition & Finalists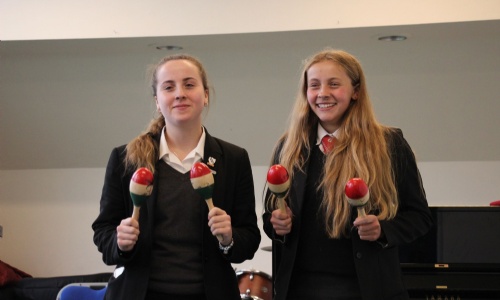 Successful House Music competition attracts more students than ever in solo and ensemble heats
This year's House Music competition has continued at full pace during the second half of this term. Houses have continued to rehearse their whole-house Elton John songs, preparing for the final performances which will take place in assemblies at the end of January; these will be judged by Miss Mountfield and Mr Simpson. House student leaders have been arranging the songs and forming bands to accompany the singing, and houses have also begun to add some choreography and blocking!
More students than ever before entered the solo and ensemble heats, which took place in early November. Over four days, Mrs Chislett and I watched and listened to hundreds of musical performances from across year groups, from piano pieces by Chopin and Horn pieces by Prokofiev, to musical theatre hits and 80s pop songs, to raps and heavy rock hits, and quite a few renditions of Happy Birthday and Twinkle Twinkle Little Star. It was lovely to see so many students putting themselves forward for their house and to be involved in music making. A number of staff also entered and it is safe to say we uncovered some hidden talents! Every entry received 1, 2 or 3 points for the respective house, depending on the quality of the performance.
Following the heats, we were very pleased to confirm who had been selected for the House Music Final, taking place on Thursday 2 February 2023. This was a very tough process - we had a large number of students who were shortlisted for the final and we could have undertaken the final three times over with the quality of performances we heard. The list of these finalists are below:
House Music Finalists 2022/2023 (each entry receives an additional 20 points for their house, providing they perform)
Junior Category (Y7-8)
Hope Briggs (Vikings) - Voice
George Clarke (Saxons) - Voice
JJ Hillier (Danes) - Trumpet
Natasha Hogan (Saxons) - Piano
Lois Jenkins (Romans) - Guitar
Colin Miles (Danes) - Flute
Intermediate Category (Y9-10)
Cormac Boden (Romans) - Violin
Edward Bunting (Normans) - Voice
Dwaipayan Chaudhuri (Romans) - Guitar
Ella Chong (Vikings) - Piano
Oisin Elliott (Vikings) - Saxophone
So Lamsdale (Danes) - Guitar
Hana MacDiarmid (Britons) - Violin
Intermediate Senior Category (Y11)
Adam Caskey (Danes) - French Horn
Koa Copland (Britons) - Voice/Piano
Imogen Downes (Saxons) - Flute
Alex Milburn (Normans) - Guitar
Thomas Shaw (Vikings) - Violin
Nathan Taylor (Vikings) - Trombone
Senior Category (Y12-13)
Naomi Box (Normans) - Piano
Logan Foster-Lyons (Saxons) - Guitar/Voice
Jas Fraser-Nicholls (Normans) - Voice
Ben Jones (Danes) - Piano
Ruby Sharma (Saxons) - Flute
Joel Taylor (Vikings) - Trombone
Oliver West (Saxons) - Voice
Ensemble Category (all years)
Lauren Bull, Archie Hewson, Bobby Norris (Britons)
Adam Caskey, Fin Engelberts, Colin Miles (Danes)
Alex Coe, Tom Hughes, Sacha Smith (Normans)
Logan Foster-Lyons, Khyan Speding (Saxons)
Ruby Qureshi, Oliver West (Saxons)
Joel Taylor, Nathan Taylor (Vikings)
With these additional points taken into account, I can also confirm the current House Music points totals are as follows:
1st place: Saxons - 262 points
2nd place: Danes - 221 points
3rd place: Vikings - 194 points
4th place: Normans - 177 points
5th place: Britons - 175 points
So - it is Saxons in the lead at the moment, however everything can change in the new year as we reach the climax of the competition. Still to come are the whole-house song performances (300 points will go to the winning house!), tutor group category adjudication (38 tutor groups entered) and the House Music Final evening itself - during which an external adjudicator will award a 4th-1st placing in each category. At the end of this evening all of the points will be added together and we will announce the final placings for the competition, therefore confirming which house has won Borlase's House Music 2022-23!
Many thanks to all students and staff for their continued support and enthusiasm!
Mr S Miall - Director of Performing Arts & Music, Associate Assistant Headteacher