National Apprenticeship Week, 6-12 February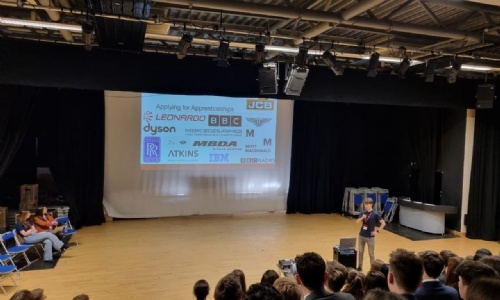 National Apprenticeship Week recognised with guest speakers for year 12 lecture series
Schools, employers, career advisers and thousands of students came together online to celebrate Apprenticeships in support of the Government-run National Apprenticeship Week which took place 6-12 February. Throughout the week, top employers and organisations come together to showcase their opportunities to those who are actively seeking an apprenticeship.
In recognition of this, we were delighted to welcome Exeter University who joined us for a Sixth Form assembly on the popular topic of Degree Apprenticeships and who also ran a drop-in session for those students who wished to ask their own specific questions and discuss next steps.
As part of our year 12 lecture series, we were also extremely fortunate to have the following speakers participate :
Katie Day, PwC – Technology Degree Apprenticeship
Myles Caddell, BBC – Broadcast Engineer Degree Apprentice
William Tucker, Dyson – Engineering Apprentice
Exeter University – various speakers and Q & A session
We our confident that our students are now more informed about the array of opportunities available with apprenticeship programmes.