House Music Competition 2023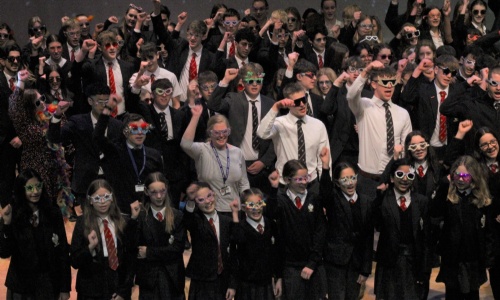 The Borlase House Music competition 2022-2023 stepped up to the next level with the theme of Elton John! With over 600 Solo & Ensemble entries across houses, Mr Miall and Mrs Chislett had an exceptionally difficult time deciding who would make it to the Finalists' Concert. The concert was a night of incredible music and talent, and was an opportunity for all the musicians to perform to the best of their ability, and help win the House Music cup! Additionally, the concert demonstrated the depth of hard-work and dedication of the musicians throughout the whole school.
Miss Susanna Fairbairn, a professional opera singer and flautist, was our expert judge for the evening, allocating 1st-4th positions for each of the categories. We started with the Solo Junior Category (Y7 & 8) and the standard was excellent. All of the young musicians walked out onto stage and performed with great confidence and amazing technical ability; well done to George Clarke (Saxons) for taking 1st place with 'You'll be back' from Hamilton and providing such an entertaining performance.
Throughout the evening we had various musical interludes between categories, including Aaron Cook who, after the Junior Category, played an exceptionally difficult tapping guitar piece. We also heard from Mr Marchand and the Bb Flute at this point - the first of three Maths Department staff who provided memorable performances across the evening. Thank you to Mrs Walder and Mr Campbell for their performances as well.
The Intermediate solos were next (Y9 & 10) with Oisin Elliott on Saxophone taking 1st for Vikings. Because of the significant talent in KS4, Mr Miall added an extra category for the Year 11s, in which Alex Milburn (Normans) stunned the audience with an incredible heavy metal song incorporating an unbelievable guitar solo. We soon learned the winners of the Tutor Group competition; well done to D1, B3 and S8.
After a short interval, the Senior Solo Category was up (Y12 & 13) and to choose a winner must have been impossible due to the exceptional level of music. However, it was Jas Fraser-Nicholls (Normans) and Ruby Sharma (Saxons) who took joint 1st place, both of which displayed flawless performances. We finished the evening with the Ensemble Category, and - amongst very stiff competition - the Taylor brothers of Joel and Nathan won for Vikings with their own impressive trombone arrangement of the Wallace and Gromit Theme.
The Whole-House Song, a much anticipated decision, was finally announced and proved instrumental in the final placings. In the end, it was Saxons who took the glory and won House Music 2022-2023. A huge thanks has to go to everyone involved including the Music Department, the Tech team, Friends of Borlase and the judges!
Alex Coe, Year 13