Model United Nations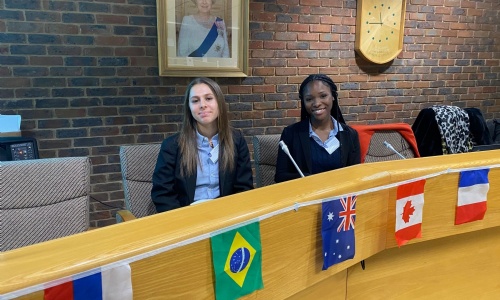 Borlase Team participate in Model United Nations at Council Chambers
We were delighted to send a team of four delegates to the Model United Nations event taking place at High Wycombe Council Chambers on Friday 3rd March. The four students: Mikey Charter O Connor, Lachlan Hudson-Cubitt, Isabella Tessarin and Aleeza Yahya; represented the countries of Australia, France, Mexico and Ukraine. Three year 12 students also attended as helpers: Jiya Bahal, Jana Todorova and Temi Odensanya.
Students had prepared over three months for this event, being paired up with students from other schools and assigned a country that they had to research in detail in order to understand their profile and their position on the issue being debated and discussed.
The Model United Nations debated Freedom of Movement, a live issue across all nations currently.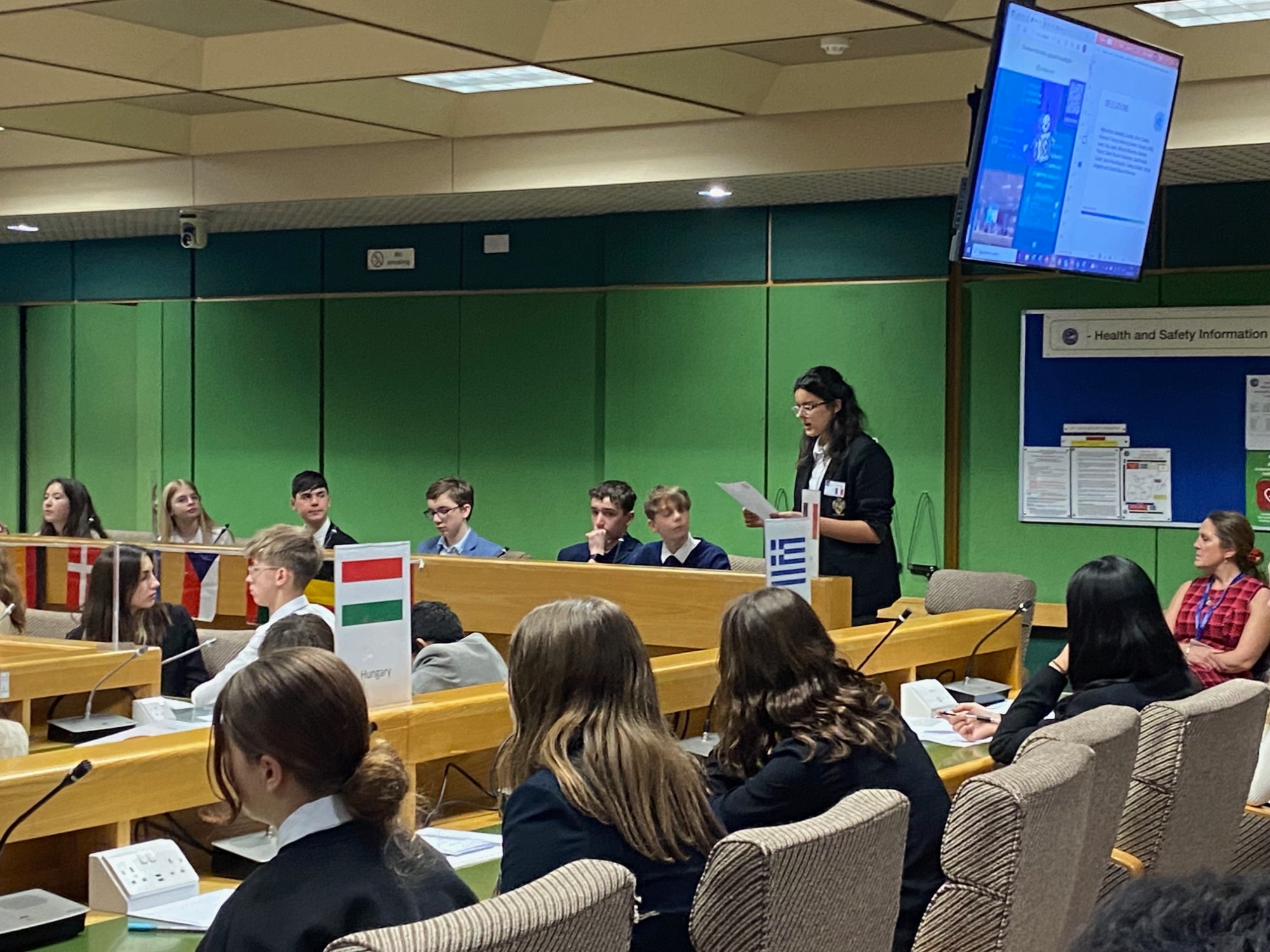 All countries had the opportunity of a 30 second opening statement where they made their position known. Then debates were opened with countries able to contribute to that debate as they wished. Each time a new debate was opened there was a flurry of flags waving as countries tried to catch the UN secretary general's eye so that they could get on the speakers list.
If a country mentioned another country in their debate then there was a right to reply, which many countries took up to defend their position. Delegates could pass written notes around to countries where they wanted to forge alliances or ask questions. The break times were also hotspots for debates in corners and countries trying to join together. As the debate moved on it was clear that groups of countries were consolidating their position together and the different camps became clear. The notes passing around at times was very exciting - like a physical version of a whatsapp chat!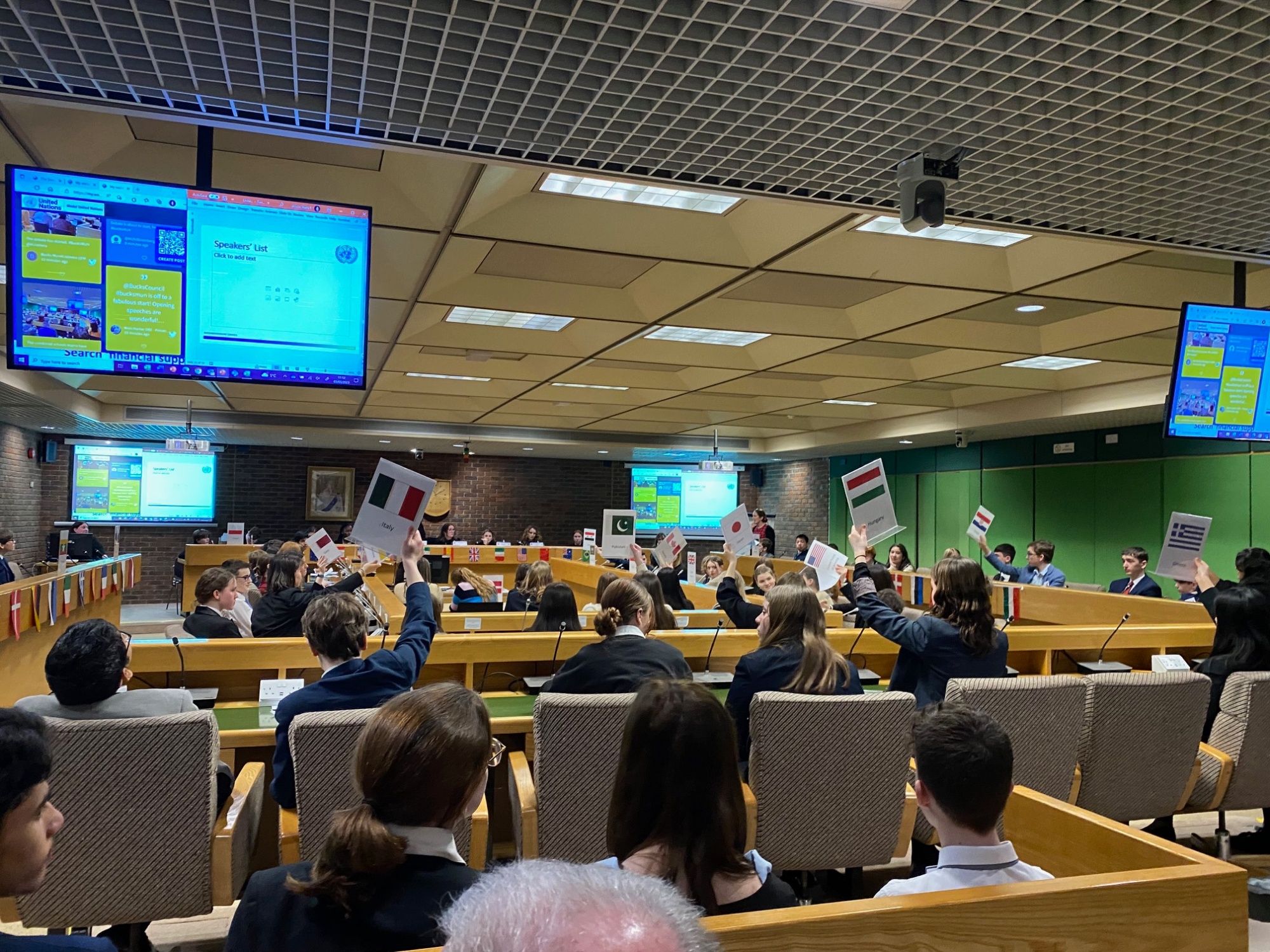 Our three sixth form helpers thought they would just be watching the debate, but were welcomed and put straight to work right in the heart of the assembly - one was scribe, one timing the speeches, one writing down the list of countries wishing to speak at any one time. As the day went on the UN secretary general also delegated some of her own responsibilities to them in terms of running the speakers lists. They also ran around the room handing notes from one country to another.
As the debate hotted up the Secretary General asked countries to start thinking about solutions rather than just debating issues. Countries starting calling on each other to take refugees or defending their position for not taking refugees. There were some ding-dong battles between certain countries with the students brilliantly defending their own countries.
Some students were designated as media outlet journalists from CNN, France 24, etc and they had to lobby the countries to get interviews although at one point the chair had to tell the media to stop harassing certain countries otherwise they would be removed!
Some countries changed their position as the debate moved on – others became more entrenched. By lunchtime it was not at all clear whether any resolution would be passed.
Just before lunch one delegate from each country was allowed to go into caucus to firm up alliances, discuss solutions and move forward actions.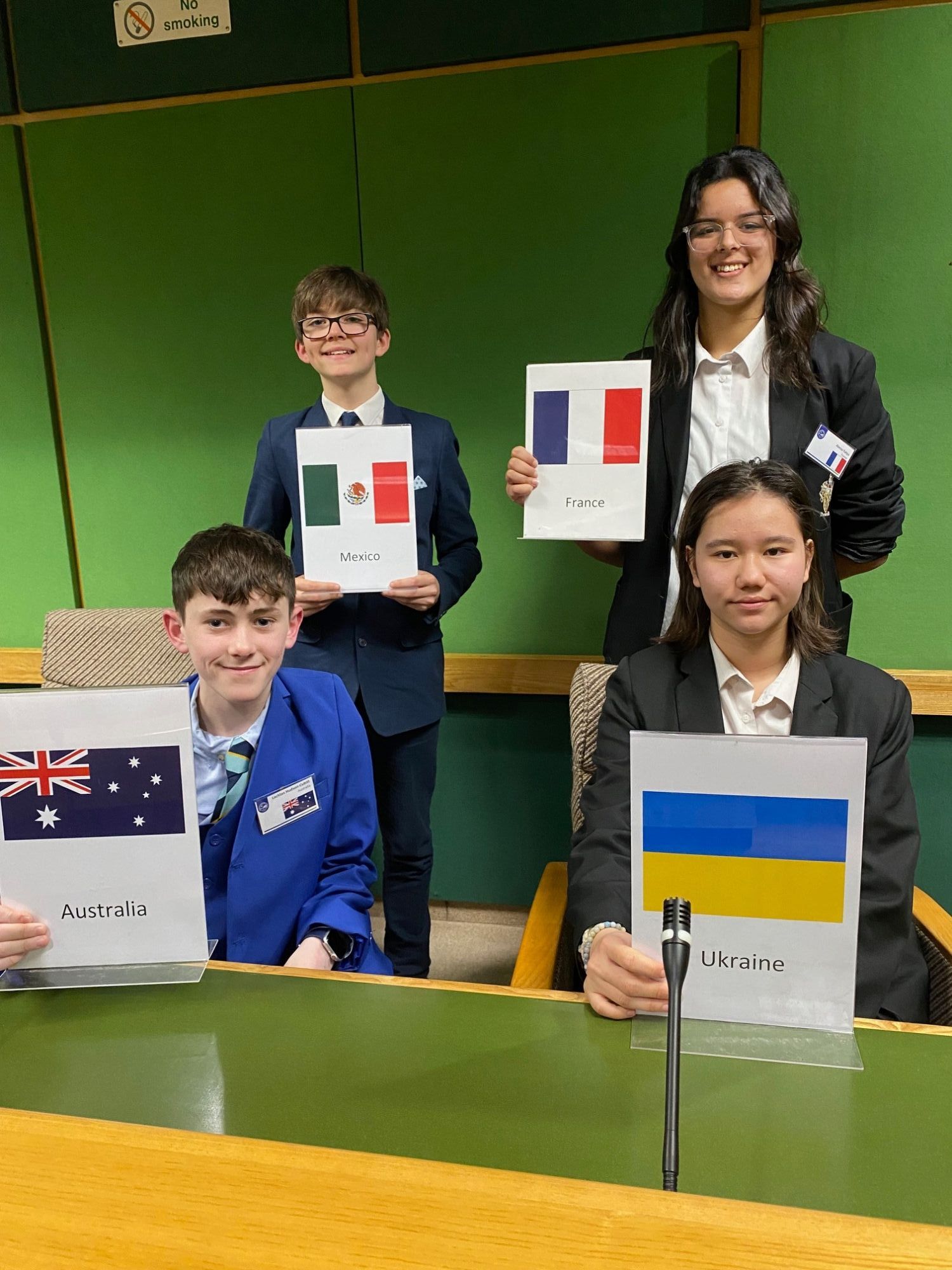 Over the lunch break delegates were still discussing and negotiating furiously, forming alliances where they could.
After lunch our year 12 helper took over the roll call from the president.
There were some news summaries from the news groups who had been busy interviewing over the lunch break.
After lunch further debates occurred where actions were discussed and debated. Notes were flying around furiously as much as the morning. Delegates sent so many notes that they ran out of paper and fresh supplies had to be sought.
Then the assembly was allowed to leave to write up resolutions which countries who agreed with signed. France, Canada and the Russian Federation were the three instigators of resolutions who took them to the front table to show the president.
Each country read out their resolution and a vote was called. A resolution needed 14 votes in order to be passed through to the next round.
In the first round of voting, Russia received 4 votes, France 12 and Canada 12. This meant that none of the resolutions were passed and delegates had to go back into caucus to negotiate and possibly amend their resolutions. They came back in and France and Canada read out their resolutions. The voting started and it was neck and neck right up to the last few votes The final results of 11 for Canada and 16 for France meant that France's resolution was passed (led by Borlase student Aleeza Yahya).
There were votes of thanks, including to our own Borlase sixth form helpers who had been so integral to the running of the day. Awards were handed out and Lachlan Hudson-Cubitt was in the winning MUN team (Australia) and Aleeza Yahya in the team that received a commendation for Caucus negotiation (France).
Students reflected on the process of the event with certain students saying how challenging they had found it to argue for the position of a country where they did not believe themselves in the position held. I have to say that all students argued their base brilliantly and you would not have known that they did not necessarily believe in what they were saying. All said how much their public speaking had improved and they had really enjoyed working with students in other schools.
There was a final newsround showing the student journalists interviewing France and Canada and then the event was wrapped up.