Global Citizenship Day, 23 March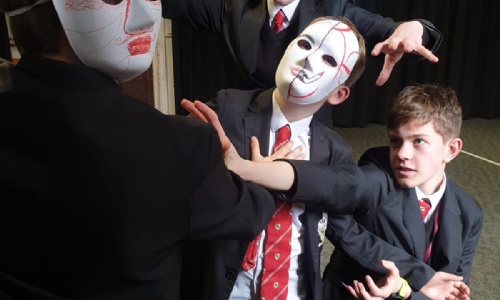 Students have immersive experience celebrating Global Citizenship Day
Borlase students had an immersive day on March 23rd looking at the world from the point of view of being a Global Citizen. As a grammar school in the United Kingdom we are acutely aware of the privileged situation of our students in being able to receive an outstanding education in a safe, supportive environment with access to all the resources they need to succeed in their chosen fields. Our students aspire to be the leaders and solutionists of the future and we have a duty to help them to understand their place in the world and how their decisions and actions can make a difference to people living all over the world.
Assemblies and lessons on this day focussed on the 17 UN sustainability goals organised into three main areas: Poverty, Inequality and Climate Change. Assemblies started with a personal good luck from Theresa May and then students were treated to amazing student and external speakers at the assemblies. These included:
● Year 7 STEM prizewinners presented their projects to the whole of KS3
● Lori Spragg from the charity buildonbooks.com gave a spell binding presentation to year 9 and 10 about how she came to found this charity and the people it helps,
● Sonia Sonawalla gave a moving presentation about a charity that her family founded in India to provide girls education in a remote rural area.
● Harvey Green presented to KS5 about renewable technologies and a prize that he won in a competition.
For the rest of the day academic lessons were focussed towards one of the UN sustainability goals, showing students that every subject they study can give them knowledge and help them make an impact in a positive way globally now and in the future. Examples of lessons included a Creative Writing session in English, Wheelchair basketball in PE, a study on "How green is McDonalds" in Business Studies, a GM crop debate in Biology and African drumming in Music. In French, Spanish and German they had a look at UN goals in the different languages, and there was fierce debating taking place in History on contentious statues.
Teachers and departments rose the challenge of teaching "within the syllabus" but gearing the learning to a global view and students found this exciting and stimulating.
It was wonderful to capture feedback from students on our feedback forms, for example:
"It's important that everyone contributes to helping global issues"
"I have learnt the importance of global citizenship, especially the fragility of the climate"
"That being a global citizen means working to improve the quality of life of everyone who is a global citizen and helping others to all have the same opportunities"
"120 million girls worldwide do not attend school"
"That being a global citizen means working to improve the quality of life of everyone who is a global citizen and helping others to all have the same opportunities"