The Sixth Form Open Evening will take place on 8 November. Introductory Talks are at 5pm, 6pm and 7pm. To ensure you see all of your subject talks we suggest you come at 5pm or 6pm. No need to book! The programme is now available, please click here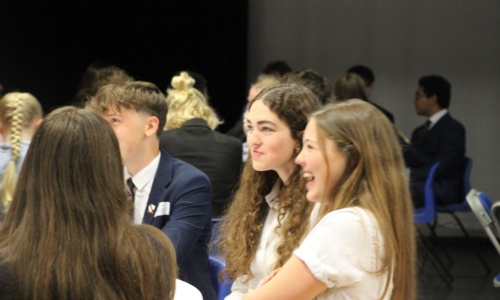 Joining the 6th Form in 2024
Sixth Form Open Evening
8 November 2023
We would like to welcome you to Borlase to our Open Evening on 8 November, there are three slots 5pm, 6pm and 7pm
There is no need to book
Each time slot starts with an introduction to the Borlase 6th Form followed by subject talks lasting 20 minutes.
All talks start on the hour and the half hour so all applicants should be able to listen to the talks relevant to them. To ensure you see all the talks that are relevant to you we recommend you look at the programme below or arrive to see the 5 or 6pm introductory talks
Application forms will go live on 13 November
The minimum entry requirement for all students applying to the Sixth Form is as follows:
An Average Point Score (APS) across all GCSE subjects of 6.4 with a minimum Level 5 in Maths and English. IGCSEs are also acceptable.
Most A Level subjects require a Level 7 to continue to A Level; individual subject requirements are detailed in the Subject Information pages which can be found here.