Senior Play production of 'Enemy of the People'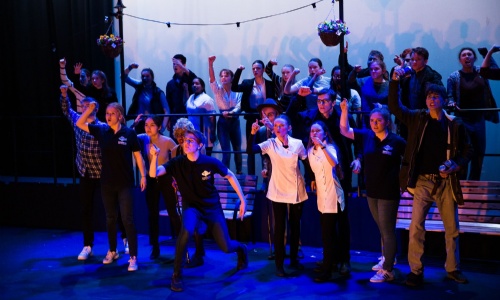 Senior Play receives rave reviews!
Senior Play receives rave reviews!
This year the Senior Play was 'An Enemy of the People' written by Henrik Ibsen. The plot follows a character called Dr Stockman who discovers that the main water source of the town is contaminated. Dr Stockman tries to publish his findings in the local newspaper, however he is shut down by the mayor of the town, his brother. The play was described as 'thought provoking' as it strongly related to our current political climate; this made the play even more interesting for the audience.
Audiences each night loved watching the show and the drama department received some amazing feedback. Viewers also loved the detailed set design as they found the moving walls, to create different locations, very clever.
Another interesting aspect of the play was the directorial decision to change the gender of three key characters; Dr Stockman, Chris Stockman and Hovstad. This meant the play had a strong independent female lead, Dr Stockman who was performed by Beatrice Lofthouse.
All the performers, the tech team and the drama department put a huge amount of effort into the production to create an amazing show. The play was directed by Miss Anderson who decided to add some physical theatre into this show. This created some interesting movement sections which separated the other naturalistic scenes. The physical theatre was mainly performed by the ensemble, the ensemble worked tirelessly to create these slick sections of movement.
On behalf of everyone who was part of the play, we would like to say a huge thank you to Mr Hartley and Miss Lewington-Chislett, along with the tech team, for creating a fascinating set, lighting and sound design. We would also like to thank Mrs Ashby and Miss Yazdi-Davis for choreographing the movement in the show. Finally, we would like to say the biggest thank you to Miss Anderson for directing an incredible production and putting in so much effort to make everything possible. She worked us all very hard!
By Maddy Hill and Tom Mccorie