Bucks Schools Cross Country Championships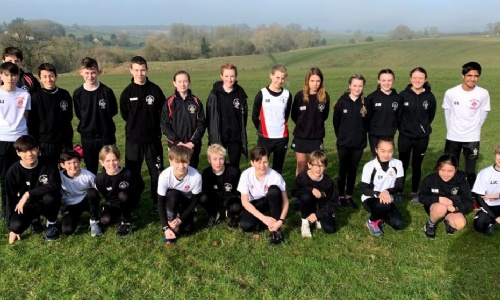 Borlase Cross Country team compete in Bucks Schools Championships
The Borlase Cross Country team travelled to Stowe School for the Bucks Schools Championships on Wednesday 5th February. It was great to see all 23 runners taking part and running really well on a very hilly and tough course.
The Year 7 Girls and Boys ran well in their races, with the boys coming a respectable 11th in the team competition with our top runner in 49th position. In the Junior Girls (Year 8 and 9), the team ran really well to come 9th overall - Tash was our top placed runner coming in 14th position. The Junior Boys (Year 8 and 9) ran superbly as a team to come 6th. Henry was our top placed runner in 12th position. We had two runners in the Inter Girls (Year 10 and 11) race and both of them secured top 10 finishes, with Jemima coming an excellent 3rd and Ellen coming 9th. In the Inter Boys (Year 10 and 11), Joel ran the gruelling course on his own and ran very well.
Well done to all the runners who represented the school, but especially Henry, Ellen and Jemima who finished in the top 12 of their races and secured selection to represent Bucks at the English Schools Cross Country Championships on the 14th March at Sefton Park, Liverpool.