The Borlase Boost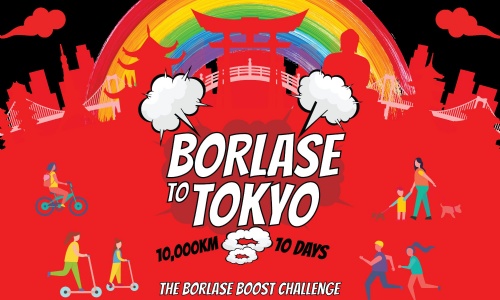 Borlase to Tokoyo Fundraising challenge!
Raising funds for much needed equipment for the fitness suite in the new sports hall and the NHS Heroes.
We want to boost the physical and mental health of the entire Borlase community - both now, during lockdown, and into the future when we return to Borlase.
The Borlase Boost challenge will aim to get Borlase to the Olympic stadium in Shinjuku, Japan, covering 10,000km in combined distance, over 10 days. We will need your support to get there!
We are asking for a minimum donation of £5 to participate in the challenge, but please feel free to give more. We will be raising much needed funds for a fitness suite in our new sports hall, and we would like to take this opportunity to show our community support for the work of the NHS, but giving 20% of all funds raised to NHS heroes.
We would like you to join us! You can choose your activity, running, cycling, walking, anything that involves distance. If 1000 people took part and covered 10km we'd reach Tokyo!
The Borlase Boost will be launched on Monday May 18th and last 10 days. All you need to do is visit TicketSource.co.uk/borlase to give your £5 or more and we will send you the link for you to submit your final distance after the 10 days and a we would love to see a photograph of you doing the challenge!
Each and everyone of us can play a role in keeping the wider Borlase community healthy - so we hope you'll add up your distance and help us achieve our target.