Arts Dinner: The Movie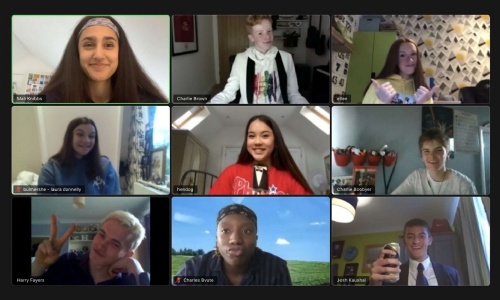 Annual Arts Dinner took place as a virtual celebration!
Despite not being in school, the Performing Arts Department could not miss the opportunity to review and celebrate all of the events and achievements that had taken place across the Performing Arts this year. Our annual Arts dinner is our chance to reflect on, and celebrate, everything that has taken place across the department since last May. We would normally hold this event on the school grounds, however, seeing as we cannot gather together in person, we want to celebrate with a Virtual Event.
We are invited students in Y11-Y13 who were involved in the Arts to a watch party on Friday 5 June at 6pm. The Arts Prefects put together a programme of virtual performances for the event which included Barbershop, Chapel Choir, Gospel Choir, a lockdown dance, and Madriguys. Staff and students sent reams of video footage to Ms Chislett to edit together into a feature length film which was screened as a YouTube Premiere on the Borlase YouTube Channel. Students were encouraged to dress up and make this into a fantastic celebration at home. A particular highlight was the staff dance to The Weekend's 'Blinding Lights'. The 14 staff who sent in footage filmed amongst other things a popular Tiktok dance
The virtual event was very successful, and we received some lovely positive feedback which we would like to share with you all.
"I saw the virtual arts dinner movie which was a great idea. So nice that everyone still wants to be a part of the arts in lockdown and put so much effort in. Love the staff dancing at the end too! It really made me miss being part of the arts at Borlase." - Emily Clark, Alumni
"We just wanted to say a MASSIVE thank you for running the online arts dinner! We have all been facetiming, watching together and it has truly made lockdown a much happier experience - we have all missed the Borlase family. We are going to miss our gcse classes very much so it was lovely to make one last incredible memory. Must say the group dance to blinding lights was a particular highlight - wasn't aware teachers were on Tiktok! Anyway, thank you very much and we hope to see you all very soon." - Harry Fayers Y11
"I just wanted to say a HUGE thank you to all those involved with the Arts Dinner on Friday evening. What the school has done and achieved throughout the Covid crisis has been remarkable and the students are so very lucky to have such dedicated teachers and staff. I tell my girls everyday how lucky they are at the quality of provision and teaching - and how so many other children in other schools have nowhere near such a fantastic experience. To be honest, until this weekend, I don't think they truly understood how Borlase has risen to the challenge so brilliantly, especially in comparison to other schools. It was only when I sent the Arts Dinner youtube link to their grandparents to watch and only when the grandparents raved and raved and raved about how fantastic it was and how lucky they are that the girls fully understood how Borlase has not just met the challenge but exceeded it in every way."
- Mrs Ness Hill
"Still with tears in my eyes. Friday was amazing from you all. What a team, what students and what skill by Jenny putting it all together. I am sort of glad I didn't realise you could online and comment. I wanted to concentrate with Ali for the entire time." - Mrs Gilly Ross
BOSCAR WINNERS 2020
Dance Awards
BEST ENSEMBLE DANCER MALE Joshua Leech
BEST ENSEMBLE DANCER FEMALE Jodie Brown
BEST DANCE PERFORMER Maddy Hill
BEST FEMALE DANCER Amy Croall
BEST MALE DANCER Harry Fayers
BEST CHOREOGRAPHER Rosie Lewis
Technical Theatre Awards
BEST MAKE-UP Amy Harris
BEST FRONT OF HOUSE Ben Ford
BEST TECHNICAL SUPPORT Toby Broyhill Fogg
BEST TECHNICAL DESIGN & OPERATION Pat Heys
BEST TECHNICAL LEADERSHIP Lucie Plummer
Music Awards
Classical Instrumentalists
BEST BRASS PLAYER Thomas Kershaw
BEST WOODWIND PLAYER Jonny Ainscough
BEST STRINGS PLAYER Raphael Conte
Contemporary Musicians
BEST JAZZ MUSICIAN Matthew Garske
BEST CONTEMPORARY MUSICIAN Gabe Smith
Vocal Awards
BEST MALE CHORISTER Fergus Cooper and Callum Kunchur
BEST FEMALE CHORISTER Lucy Banks
BEST MALE VOCALIST Cormac Diamond
BEST FEMALE VOCALIST Georgia Tuke
Musical Leadership Award
BEST MUSICAL DIRECTOR Ava Sherwood-Rogers & Georgia Tuke
BEST STUDENT-LED ENSEMBLE Barbershop
Drama Awards
BEST ACTOR Cormac Diamond
BEST ACTRESS Beatrice Lofthouse
BEST COMPANY ACTOR Freddie Macgregor
BEST COMPANY ACTRESS Na'imah Bowen and Zuzu Zaldua
BEST DRAMA LEADERSHIP Hana Jolly
BOSCAR NOMINEES
---
TECHNICAL THEATRE AWARDS
---
BEST MAKE-UP
Sophie Bowen Evans
Amy Harris
Kate Paterson
Catarina Silva
BEST FRONT OF HOUSE
Toby Broyhill Fogg
Jack Donoghue
Ben Ford
Bethan Norris
Lucie Plummer
Sian Ramm
Will Tucker
BEST TECHNICAL SUPPORT
Toby Broyhill Fogg
Lola Castle
Lottie Macleod
Megan Powell
Gabe Smith
Will Tucker
BEST TECHNICAL DESIGN & OPERATION
Max Brazier & Krystian Kula
Charlotte Farmer
Pat Heys
Charles Washbourn
BEST TECHNICAL LEADERSHIP
Lola Castle
Ben Ford
Lucie Plummer
Gianni Scavetta
---
DANCE AWARDS
---
BEST ENSEMBLE DANCER MALE
Jardine Barrington-Cook
Alex Elliott
Joshua Leech
Tim Woodford
BEST ENSEMBLE DANCER FEMALE
Imogen Baguley
Jodie Brown
Megan Powell
Elizabeth Rackstraw
Amelia Scott
Lucie Pryor
BEST FEMALE DANCER
Ophelia Almeyda
Emily Annis
Jodie Brown
Amy Croall
Maddy Hill
Rosie Lewis
BEST MALE DANCER
Harry Fayers
Joshua Leech
Tom McCrorie
Tim Woodford
BEST DANCE PERFORMER
Imogen Baguley
Harry Fayers
Maddy Hill
Lizzie Rackstraw
BEST CHOREGRAPHER
Emily Annis
Imogen Baguley
Harry Fayers
Rosie Lewis
Lily Meyer
---
DRAMA AWARDS
---
BEST COMPANY ACTOR
Joshua Leech
Freddie MacGregor
Adam Town
Szymon Walkowski
BEST COMPANY ACTRESS
Na'imah Bowen
Maddy Hill
Jess Leonard
Rosie White
Zuzu Zaldua
BEST ACTOR
Toby Broyhill Fogg
Fergus Cooper
Mark D'Arcy
Cormac Diamond
Tom McCrorie
Leon Tasch
BEST ACTRESS
Isabelle Jones
Beatrice Lofthouse
Catie Newton
Grace Venus
BEST DRAMA LEADERSHIP
Maddy Hill & Rosie White
Hana Jolly
Poppy Morgan & Elizabeth Rackstraw

---
MUSIC AWARDS
---
Classical Instrumentalists Awards
BEST BRASS PLAYER
Reuben Bignell
Cormac Diamond
Luke Haldane
Thomas Kershaw
BEST WOODWIND PLAYER
Jonny AINSCOUGH
Lucy Barnes
Fergus Cooper
Stevie Cooper
Charlotte Farmer
Evie Harper
Josh Kaushal
Florence Ridley
BEST STRINGS PLAYER
Raphael Conte
Emily Farmer
Olly Gale
Callum Kunchur
Fergal Marsh
Kate Paterson
Hector Walker
Contemporary Musician Awards
BEST JAZZ MUSICIAN
Jonny Ainscough
Stevie Cooper
Cormac Diamond
Olly Gale
Matthew Garske
Josh Kaushal
Leon Tasch
Daniela Taverner
BEST CONTEMPORARY MUSICIAN
Charles Betz
Joe Parkinson
Akaash Pipial
Gabe Smith
Leon Tasch
Hector Walker
Jack Yates
Vocal Awards
BEST MALE CHORISTER
Raphael Conte
Fergus Cooper
Mark D'Arcy
Cormac Diamond
Charlie Evans
Callum Kunchur
Luke Haldane
Freddie MacGregor
Fergal Marsh
BEST FEMALE CHORISTER
Lucy Banks
Megan Ellis
Charlotte Farmer
Emily Farmer
Isabelle Jones
Beatrice Lofthouse
Georgia Mill
Georgia Tuke
Elenor Vockins
BEST MALE VOCALIST
Raphael Conte
Fergus Cooper
Mark D'Arcy
Cormac Diamond
Charlie Evans
Keyaan Hameed
Callum Kunchur
BEST FEMALE VOCALIST
Lucy Banks
Cassie Halpin
Amy Harris
Isabelle Jones
Poppy Murray
Ava Sherwood-Rogers
Georgia Tuke
Elenor Vockins
Musical Leadership Awards
BEST MUSICAL DIRECTOR
Jonny Ainscough
Lucy Barnes
Raphael Conte
Cormac Diamond
Charlotte Farmer
Florence Ridley
Ava Sherwood-Rogers & Georgia Tuke
Gabe Smith