A virtual day out for MedSoc - Your Heart Hospital Conference 2020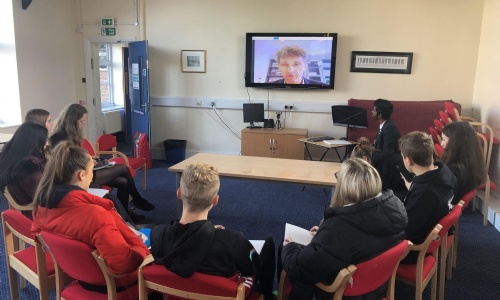 MedSoc joined online talks with The Royal Brompton and Harefield Hospital
MedSoc joined The Royal Brompton and Harefield Hospital online yesterday for their Your Heart Hospital 2020 Conference. Delivered in partnership with the British Cardiovascular Society. This was an exciting opportunity to listen to talks on How the heart works and how to keep it healthy form Dr Miles Dalby and how to prevent heart disease from Dr Mahmoud Barbir. Professor William Toff led a discussion on how to give CPR under the new Covid restrictions. We discussed where our local defibrillators were located and we were encouraged to share our feelings as to if we would feel confident using one especially now in the pandemic.
The second session was led by DR Johnathan Hill and we experienced a fast moving real time heart attack scenario and learned about the essence of quick responses and the complexity of the treatment. We were talked through real surgical procedures including a look at the very latest pacemakers and stent technologies. We listened to accounts from patients, Surgeons and sadly bereaved families.
This was followed by a presentation and live Q&A on Heart Rhythm and Heart Valve problems and treatments from Dr Rebecca Lane and DR Shelly Rhaman Hayley. At the end of the conference we were introduced to a number of specialist doctors, nurses and a biochemist who described what they did in the hospital and their different career paths within medicine. We discussed the importance of multidisciplinary teams and the backlog of treatments due to Covid and the impact of this on Junior doctor training. We were encouraged to ask lots of questions.
We must thank Ophelia Almeyda whose Aunt, Dr Lane, kindly sent us the invitation. Thank you also to Dr Dalby for taking the time out of his busy day to organise the conference and Mrs Barclay for setting up this opportunity for us.
Rishi Miryla and Gracie Newbold