MFL department represented at NCELP National Conference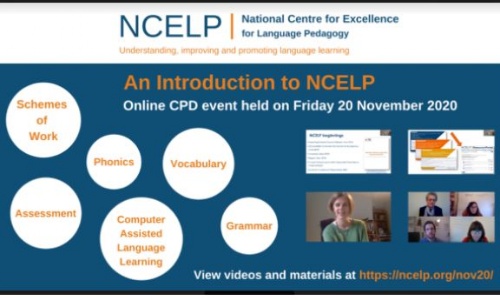 MFL Hub represented at NCELP National Conference
The SWBGS MFL hub was represented at the NCELP (National Centre for Excellence for Language Pedagogy) National conference on 20th November, when Jenny Hopper, SWBGS MFL Hub lead, gave a presentation on NCELP scheme of works and CALL (Computer Aided Language Learning). The event, designed as an introduction to NCELP for newcomers, is freely accessible via a series of Youtube recordings for each of the key sessions. The outline of the conference is attached below, and this link will take you directly to the conference overview and youtube recordings.
Our hub-led training this term has focused on the Year 8 Schemes of Work with some exciting new features, particularly on in depth vocabulary learning and recall. Year 8s are now accessing reading material at a level which matches our Year 10/11 learning in terms of vocabulary complexity. Indeed we know that by early Year 8 our students are already exposed to 60% or more of the vocabulary on the GCSE specification.
Early next year we're keen to present further details and evidence from all our hub schools to underpin student progress using the NCELP approach. Further details will be circulated in January. Do contact us at mfl-hub@swbgs.com if you have any queries in the meantime.