Year 12 Student Voice Competition 2020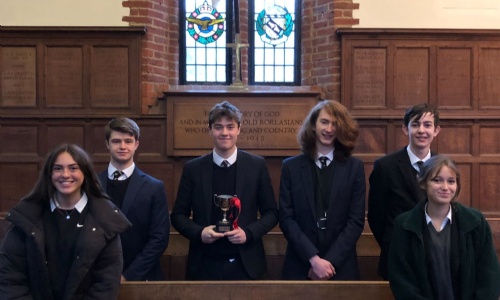 Year 12 students compete for their houses in Voice Competition!
This half term marked the eagerly anticipated Year 12 inter-house Student Voice competition initiated last year. In the light of covid-19, this competition was an exciting first opportunity this academic year for students to finally compete for their houses in order to secure the house trophy! It is not only an enjoyable competition in which students have the ability to cooperatively work together to craft a speech on a topic of their choice, but it is also highly important in raising student body awareness on a number of topical issues as well as advising the Borlase community on how we can all action change. Sixth form students were notified by Mrs Bungey about the competition in assembly, and Year 12 forms had a week to gather a variety of ideas and then nominate a confident speaker to present their chosen topic through the writing of a 3-4-minute (no more, no less!) speech. The Year 13 form groups were given the all-important role of deciding between two year 12 representatives in their house, before voting which speaker would make it successfully through to the finals!
The semi-final round consisted of 12 different speakers, 2 from each house, performing their speeches in front of their Year 13 tutor group. Topics were highly varied, with titles including: 'Are Designer Babies Ethical?'; 'Has Social Media Created a Stalking Society?' and 'Can We Really Stop Climate Change Ourselves?' to name a few! After the exceptional delivery of the speeches, the finalists were finally announced after much debate and deliberation. Representing Romans was Olivia Jones, who debated 'Is Feminism Still Relevant in 2020?, and Danny Lewis, chosen to represent Saxons, discussed 'The Silent Battle- Men's Mental Health'. Charles Betz was selected by Danes, delivering his speech: 'The Loneliness Pandemic', and representing Vikings was Maisie Stalham, who spoke about 'Global Inequalities'. Normans was represented by Aidan Melling, who posed the question 'Is it Ethical to Reduce the International Aid Budget during the Covid Pandemic?, and finally, Max Baker was selected by Britons to discuss the debatable topic of 'Positive Discrimination'.
The finals were held in the iconic Borlase chapel in assembly time across three mornings of the week commencing on Monday the 7th of December. We were fortunate enough to be in a position where all speeches were live streamed to the school, enabling all tutors and students to watch their house representative compete for the winning title! We were also lucky to be joined by Miss Mountfield and Mrs Walder, who were the judges for this year's competition. There were three main success criteria which must be confidently and consistently met in order to declare the winner- including the originality of ideas, the planning and crafting of the speech, and the overall delivery and voice articulation of the speech. After the finals were completed, Mrs Walder and Miss Mountfield took a day to confer before the final results were announced on Thursday.
After much deliberation, the overall winner was announced as Danny Lewis from Saxons, following his delivery of a powerful speech regarding men's mental health. Second place was Max Baker from Britons, followed in third place by Normans representative Aidan Melling. Miss Mountfield and Mrs Walder described how Danny's winning speech contained 'powerful statistics' and 'very clear ideas', as well as 'evocative and provocative imagery'. I spoke to Danny following his win on behalf of his form, and he stated that they 'chose the topic of men's mental health as they felt there is a lot of stigma around the idea of 'manning up', and how it is a problem within today's society'. He also explained that he volunteered to deliver this speech as he 'felt it is important for men's voices to be heard, as sometimes their issues are lost in society'. The judges stressed how close the final decision was due to the 'exceptional quality' of the speeches, so now the bar is set high for next year's hopeful competitors!
Sophie Triptree, Year 12