Societies Fair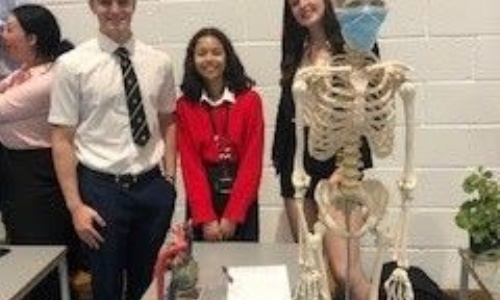 Senior Societies Fair at start of term has fabulous turnout .
On Thursday the 9th of September, Borlase's senior Societies Fair took place, and it was a hit! In what was the biggest turnout yet, over 40 societies created stalls and displays to advertise themselves to years 10 to 13. From cupcakes, to business cards, to a cardboard cut-out of Elon Musk, society leaders got really creative to attract a wider audience.
The event was organised by the efforts of the prefects, and all the society leaders contributed to ensuring its success, as well as cleaning up after the event. The atmosphere was one of enthusiasm, as the younger years showed great enthusiasm to get involved.
"It was so lovely to see everyone together after the last two years of separation," said Charlotte Reay, leader of Law Soc and Classics Soc
Audience numbers climbed to new heights - Fem Soc had over one hundred students sign up to their society!
After the success of the Societies Fair, we can expect to see the enthusiasm extended to attendance of societies, which commences on the 20th of September, and we expect to see the new leaders just as dedicated when the handover takes place in the winter term.
A massive thank you to all those who organised, contributed to and attended the Societies Fair - we hope next year's will be just as great!