The Friends of Borlase Christmas Ball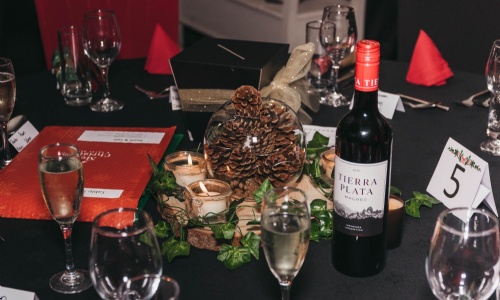 Friends of Borlase hold first ever Christmas Ball
Oh, What Fun!"
After such a busy term supporting the many fantastic school performances, it was the Friends of Borlase turn to hold our school's first ever Christmas Ball. Our aim was simply to reunite and celebrate being together again as a school community, as so many parents – including myself – had missed out on all social gatherings over the past two years due to COVID. We termed it a Friend-raiser – and looking back, we exceeded all expectations!
The Ball took place at Monkton's Barn, and it was a sight to behold! During Ms Mountfield's welcome, she commented on the spectacular décor - sophisticated and elegant. And how guests had brought their very own sparkle too! The atmosphere was made even more special when Borlase's very own Y12 Pianist, Ben Jones filled the barn with his Christmas Jazz set.
After introductions, we jumped straight into the ever-popular fundraising game, Heads and Tails and for one lucky winner a chance to receive £100 voucher at TK's The Coach in Marlow. Then the Friends team revealed the 30+ raffle prizes to be won that night, comprising of a set lunch for two with a bottle of wine at Vaasu's Restaurant, a bottle of Champagne to be enjoyed at Cliveden, Afternoon Tea for Two with Prosecco at the Danesfield Hotel & Spa, Space NK goody bags, a 4-Ball Golf voucher for Harleyford's and many, many more amazing prizes!
After a festive 3-course dinner it was time to bring out the Friends surprise guest - Borlase parent and Pub in the Park owner Chris Hughes. The atmosphere was buzzing with excitement as Chris worked his magic, inviting generous bids for more spectacular prizes, including a week's holiday home in Devon, VIP tickets for CarFest, Tickets for Saturday's PITP '22, and much, much more.
The atmosphere in the dining room was filled with such warmth and kind-heartedness, and the Friends raised a whopping £17,000! For our first fundraiser, we couldn't be happier! It is a huge amount of money that we have already cited will go towards supporting the Health and Wellbeing of all our wonderful children attending Borlase, a cause very close to each of our hearts!
For information on the Friends of Borlase upcoming events in the year ahead, please go to the school website and search 'Friends'. Or if you would like to be a part of the new Friends volunteering team, please email: friends@swbgs.com.
Chrissy Longley, Co-Chair